Magen dvorim youth
Educational programs for schools from third to twelfth grade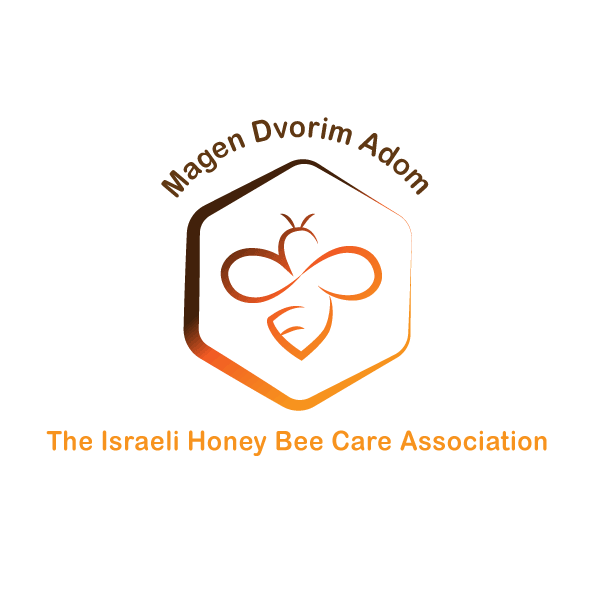 Association of Red Bee Protection is a volunteer organization that protects swarms of bees, saving them from spraying and annihilation as well as raising awareness for positive coexistence with bees in a stable environment. We teach comprehensive environmental education through the world of bees and maintenance of bee farms.
We call it, living peacefully in a bee environment.
"Red Bee Protector" was established eight years ago and in 2020 we officially became an association. Among other things, we raise the awareness of conservation of bees in nature. We are currently promoting an amendment to the pest control law to ban bees from the pest control list, by providing information and training for pest control, environmentalists, youth and adult education and more.
Our organization has over 200 volunteers from all over the country who volunteer to rescue swarms that have settled in places that hinder people, we move them to a more protected shelter.
To date, our organization has saved thousands of swarms and more than 1500 swarms a year, this is over 20 million bees each year. The swarms we shed are moved to safety, and some were able to be left to live naturally in the original place, protected by the citizens who "complained" about them.
Along the way our volunteers rescued thousands of animals that were suspected by citizens to be bees that may have been destroyed, among them are swallows, bees, wasps and more.
Now many teens and students are interested in being called "Red Bee Protector"
The experience the youth gain from collecting and rescuing bee swarms enables them to connect with the bees in a different and unique way, through this special way of learning, by the experiential experience of saving such a significant and exciting animal.
We offer a curriculum for elementary and high schools, science research classes, biotope works and more.
What is there to gain from this?
⦁ The Holistic connection of man-earth-environment-cosmos, connecting boys in an extraordinary way to man, the earth, the flora and fauna and cosmos through the observation of the magic life of the bees.
⦁  The Education of civic-social-environmental-educational activism, through the study of the bee world and the reasons for their disappearance, is the mirror image of the state of the economy and the environment. The way to save the bee world is the mirror image of how each child and adult can contribute to society, economically and environmentally.
⦁ Powerful Impression – The encounter of children with bees is a powerful one that leaves an impression and appreciation of exceptional perfection. The experience of saving a swarm is akin to saving a whole world.
⦁ Stigma Reversal – The fact that children who were originally afraid of bees and have now become "bee-lovers" is an amazing phenomenon of "stigma reversal" quickly becoming friends after only a brief introduction and learning session.
In many cases we see the "sting" as the result, but when you are educated, you are able to experience the honey in it.
Action Plan Proposal
⦁ October 2017 to January 2018 A series of lectures for middle and high school students.
⦁ January-April 2018 – National Volunteer Youth Course. An integrated course of concentrated study days (Hanukkah and Passover), volunteer days with adult volunteers and a 16-hour online course.
⦁ February – April 2018 Volunteers join bee rescue activities with adult volunteers.
⦁ On the eve of Rosh Hashana, the boys will receive a Certified Graduate Certificate and a First-Class Volunteer.
Learn to build a training and certification program in which competent boys will guide and explain about the vanishing bee world. Learn ways to rescue them and be involved in guiding the following cycles.
If you are also interested in educational programs in schools / youth movements
call us 054-2275865 Yossi Ode no-reply contact magendvorim123@gmail.com